Samsung at LFI 2017: Complete End-to-End LED Solutions Unveiled
Samsung at LFI 2017: Complete End-to-End LED Solutions Unveiled
At this year's LIGHTFAIR International (LFI), the world's largest annual architectural and commercial lighting trade show and conference, Samsung Electronics has underlined its dedication to bringing innovative
LED lighting
solutions to the market. In particular, Jacob Tarn's (Executive Vice President,
LED
Lighting Business, Samsung Electronics) presentation in front of 15 media people showed how Samsung's LED business has evolved from mere LED component business to full-blown end-to-end solutions ranging from LED packages to LED engine & Smart Lighting platform.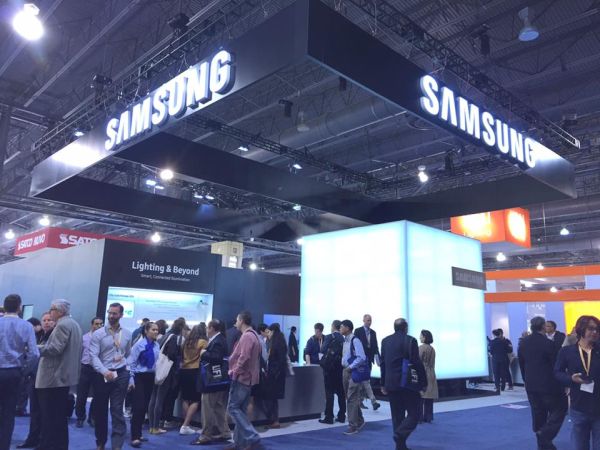 (Photo Credits: Samsung LED)
Samsung at LFI
Samsung has tried to deliver a consistent message to the lighting industry that they aim to be a leader in the LED component market by differentiating themselves using their 4 Building Block strategy, which was originally announced last year during LFI.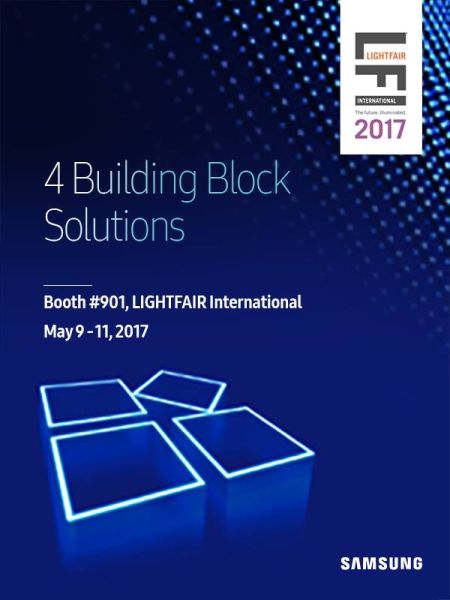 (Photo Credits: Samsung LED)
This year, Samsung showed in the booth how their 4 bock strategy has advanced by realizing the highest level of lm/W with their mid power LM301B, and by having complete CSP line-up ranging from mid power to high power and covering all important lighting applications. This all thanks to Samsung's two fundamental CSP technologies called FEC & POC. These are, in the company's words, the premium building block and CSP building block of the 4 key LED building blocks.
The third building block is Samsung's smart lighting platform solution, and this year they exhibited a full range of smart components such as connectivity modules, smart sensor module, PMD smart driver, and also many other modules using smart technologies like tunable white, color changing, embedded drivers and connectivity chips, etc.
SJ Hong (Director, Marketing) commented, "Samsung's unique position in the industry is enabling Samsung to be a key player bridging the gap between Smart connected lighting world and conventional LED lighting world. With Samsung's smart lighting platform approach, it will be very easy for every luminaire companies to be connected and smart as they need to just simply adapt Samsung's end to end smart solution."
The final building block is their LED Ingredient Branding program. Samsung introduced the In-Brand program last year to help consumers select high-quality LED lighting products that use components produced by Samsung, and this year they showed how well-established the program has become. Samsung has also forged a strategic partnership with Home Depot, the largest retail channel in the U.S. for lighting products.
"The Ingredient Brand partnership with The Home Depot clearly shows how the Samsung brand is being appreciated by end customer, and by offering the logo ("LED provided by SAMSUNG") to the key partners, we will 100% ensure that not only our luminaire customers but everybody in the value chain will have 'peace of mind' when they see our logo in the lighting products," Hong said.
雷舒照明科技(上海)有限公司,生产 厂房灯 工矿灯 LED工矿灯 UFO工矿灯 150W工矿灯 100W工矿灯 200W工矿灯 仓库车间 超市照明 工矿灯套件 厂房仓库大球泡